Isn't it time for Clay Helton to donate part of his salary to some organization to help victims of the coronavirus? Or maybe to help the essential workers during the crisis?
Helton's been stealing millions the past two seasons (I'd argue longer than that) and what's wrong with making a sizeable donation to a worthy cause?
And it would mean more than filming a public-service announcement.
By the way, USC can't afford to buy out Helton's contract but has $8.6 million for a Santa Monica house because Carol Folt wants to live by the beach? No problem.
If USC knew it was going to sell the San Marino estate for $15-plus million, use that for Helton's buyout.
Who is USC trying to convince that Andy Enfield is a good coach? It's a constant barrage like the graphic below.
How many good teams has he beaten? How many NCAA Tournament games has he won? What is his February record?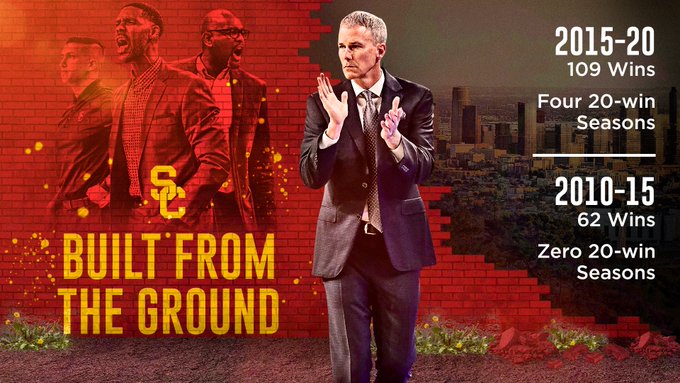 And now for some history:
Here's a good story on the massive screw-up behind the instant replay fiasco on the play where Vince Young's knee was clearly on the ground when Texas scored a TD.
I've always thought if USC had beaten Texas, the Trojans would have reeled off 2-3 more national titles in football. USC would have won 35 straight games and beaten a great Texas team. The Trojans would have been invincible.
Even with the loss, USC only had to beat UCLA the following season to reach the BCS title game. No way USC loses to UCLA, in my mind, if they were defending national champs.
Who doesn't think USC wins that game if Norm Chow is still offensive coordinator?
That might be the only game where Lane Kiffin was in tears in the locker room after the game.
Why was there so much confusion on the USC sideline after Young's famous winning TD run? Pete Carroll was already talking to the offense thinking about getting the ball back. So when USC lined up for 2 points, defensive line coach Jethro Franklin panicked and called timeout.
That deprived USC of its final timeout and any chance of a field goal to force overtime. Reggie Bush caught a pass and had a lot of open space but ran out of bounds to stop the clock. It was too far to try a field goal.
The USC-Notre Dame and USC-Texas games that season were probably the best crowd atmospheres of any games I've covered. But I would rank the Notre Dame atmosphere better because you had around 81,000 all united against the Trojans. It was completely hostile and completely unforgettable. And winning that game was incredible.
Why was former Reds/Tigers manager Sparky Anderson a USC bat boy in 1948? Because he lived off McClintock Ave. in an area that is now part of the USC campus. Possibly even by Howard Jones Field.
Last week, I mentioned a John McKay era assistant coach told me about 20 years ago that Marv Marinovich got into the most fights of player during that time. Well, a classmate of Marinovich relayed this story after reading my column.
"I can still remember the time Marinovich got into a fight with (USC football player) Lloyd Winston. It started in Marks Hall and ended in Trojan Hall. No one wanted to break it up because they didn't want to get beat up."