Former USC tailback Anthony Davis, who was inducted into the Rose Bowl Hall of Fame on Thursday, was a no-show at the Rose Parade and Rose Bowl on Saturday.
The other inductees, Michigan linebacker Ron Simpkins and former Big Ten commissioner Jim Delany, rode in a car at the parade and were on the field for introductions during the Ohio State-Utah game.
I'm told Davis wasn't able to attend either event because he was not vaccinated and this had been known for more than a month by Rose Bowl officials.
USC linebacker Drake Jackson officially announced he was turning pro, which is a bit odd because agent Drew Rosenhaus said he signed Jackson on Dec. 23.
USC cornerback Isaac Taylor-Stuart also announced he would turn pro, which was expected.
ESPN reporter Adam Rittenberg said USC is targeting Utah running backs coach running backs coach Kiel McDonald. The fanboys will say this would be a great hire even though they probably never heard of McDonald before Saturday.
Did you see former USC guard Kevin Porter Jr. reportedly left the Houston Rockets game right after halftime Saturday night following a heated discussion with Rockets assistant coach John Lucas? If I remember, I will write something later this week that will illustrate why no USC coaches around in 2018-19 would be surprised by Porter's behavior.
It was gorgeous day at the Rose Bowl for Ohio State-Utah and many wondered if it ever rains on New Year's Day?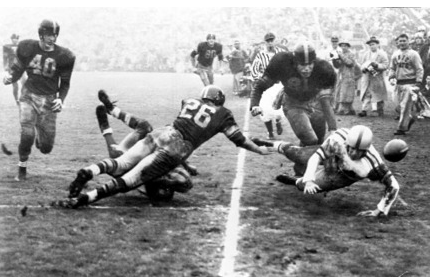 I know there was a constant downpour at the 1955 Rose Bowl between USC-Ohio State and it was dubbed the "Quagmire Bowl."
USC QB Jim Contratto had at least three fumbles and the next day someone sent a football with a suitcase handle attached to it to the athletic dept.
"The rain definitely hurt our passing game and we intended to pass a lot," USC coach Jess Hill said. "Jim Contratto told me he just couldn't hold onto the ball."
Ohio State coach Woody Hayes was furious that the Buckeye and USC bands were allowed to perform at halftime.
"I think we've got the greatest band there is. But they should have kept them both — USC's band, too — off the field," Hayes said. "They let 'em come out at halftime and cut our football field into a quagmire between the 30 yard lines. It just doesn't make sense."
Despite Hayes' complaints, Ohio State won the game, 20-7.