While everyone waits for Caleb Williams to commit at any second, let's look at another intriguing prospect in the transfer portal who may end up a Trojan.
There is a lot of buzz Oregon tailback Travis Dye, who is from Norco, could be headed home.
This would be a huge pick-up for USC, but I still wonder what Dye gets out of it? He would join a backfield that just added Stanford tailback Austin Jones. And has three other promising tailbacks (Brandon Campbell, Darwin Barlow, Raleek Brown).
I wouldn't want to share carries when I'm trying to improve my NFL stock. But that's me, I guess.
USC punter Ben Griffiths has declared for the NFL Draft. Makes sense because Griffiths is 30-years-old.
USC's 61-58 victory over Colorado on Thursday night snapped the Trojans' seven-game losing streak to the Buffaloes and earned their first win since 2018.
USC hired UCLA assistant Jane Alukonis as its women's soccer coach this week. The interesting part is UCLA had an opening for a women's soccer coach and decided not to hire Alukonis.
USC now has hired two former UCLA assistants — Alukonis and women's volleyball coach Brad Keller — under Mike Bohn. Obviously, USC doesn't want to spend a lot of money on these positions.
The one non-major sport coach getting — Lindsay Gottleib ($1 million per year — lost to UCLA, 66-43, on Thursday night and has a 9-6 record.
FREEZING COLD TAKES
A comedy in three acts. #USC pic.twitter.com/bduvy6aP3r

— Dwayne "The John" Rockson (@jay_sea_em) November 28, 2021
https://platform.twitter.com/widgets.js
And now for some history:
Earlier this week, I wrote about how Kentucky coach Joe B. Hall turned down the USC job in 1979. Hall won a national championship in 1978.
He lost in the national title game to UCLA in 1975, which was the final game for John Wooden. Hall later recalled how the referees treated him and Wooden differently in that game, during an incident where UCLA had been called for a technical foul.
"The referee was Bob Wortman and he very politely, like he would help his father off the floor, gently had the elbow of Coach Wooden and said, `Please Mr. Wooden, go back to your bench.' And Coach Wooden wouldn't go," Hall said.
"So I walked to the scorer's table and told Wortman to let Kevin Grevey shoot his free throws and he pointed at me and said, `If you don't get back to your bench I'm going to call a technical.' So I knew I was not in home territory."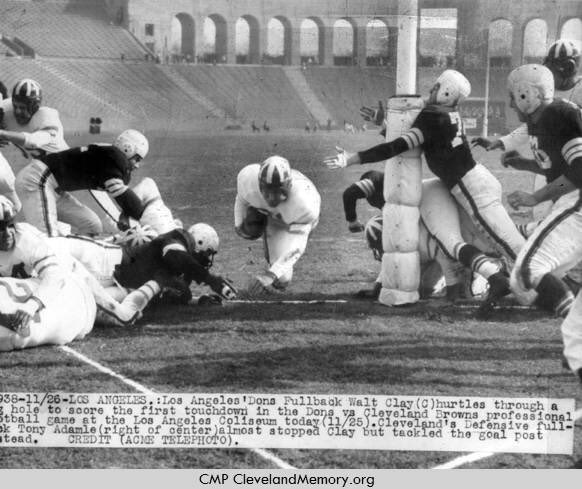 Here's a 1948 photo of a game between the L.A. Dons and Cleveland Browns. The Browns defensive player who ran into the goal post, Tony Adamle, is the father of former NFL player/NBC Sports announcer Mike Adamle.
Remember, the infamous Stubby Shaw played for the L.A. Dons.
But the main reason I ran this photo is the clean look of the Peristyle, free of all the bric-a-brac USC stuck there over the years.
A USC student during the early 1960's told me about his first trip to New York City, when he stopped by P.J. Clarke's restaurant and bar on Third Avenue.
All of a sudden there was commotion around two guys who walked in: The USC student recognized them immediately, as NFL stars Frank Gifford and Hugh McElhenny.
"The women flocked to them," the USC student said.
Naturally, there were USC ties: Gifford played at USC. McElhenny wanted to go to USC.
In 1948, McElhenny graduated from Washington High School in Los Angeles. If you talk to anyone who was around in those days, they can tell you about McElhenny's exploits in football and track.
McElhenny wanted to go to USC but did not have the grades. So he went to Compton College, coached by former USC player Tay Brown. But after just one season, he learned the University of Washington could accept him immediately. USC needed him to go another year to Compton.
McElhenny went to Washington, became an All-American, rushed for 296 yards and 5 TD's vs. Washington State and returned a punt 100 yards for a TD vs. USC. He then became the ninth player selected overall in the 1952 NFL Draft and was selected for the Pro Bowl six times.