The Arizona schools are 4-1? After everyone trashed Arizona for losing to Hawaii?
Oregon State is beating UCLA, 21-0, in the first quarter. Check the attendance. UCLA's two smallest crowds at the Rose Bowl were vs. Oregon State.
Fire Chip Kelly? He won't get a passionate defense from Yogi Roth because Kelly coaches at UCLA instead of USC.
Oregon couldn't score a point in the first half vs. Cal and trailed 7-0. Oregon has a Heisman Trophy candidate at QB (Justin Herbert) while Cal has its backup (Devon Modster).
Did you see tailback Nathan Tilford scored the winning TD for Arizona? USC offered him when he was an eighth grader.
UPDATED: The official UCLA-Oregon State attendance tonight was 48,532. That sounds as dishonest as USC. The smallest crowd for UCLA at the Rose Bowl was 32,513 in 1992 vs. Oregon State.
Look at the stadium 10 minutes before kickoff.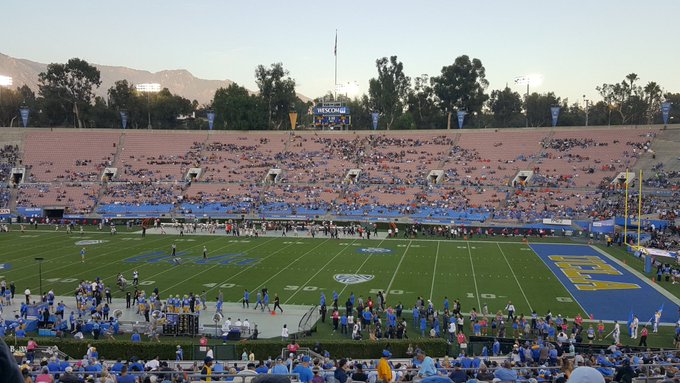 Oregon State wins easily, 48-31.
Meanwhile, Stanford is actually giving Washington a tough time and leads 13-10 at halftime.