USC defeated UCLA in thrilling fashion and still perfectly illustrated why it can confound fans Saturday.
The Trojans missed four free throws in crunch time but more importantly showed that Andy Enfield just lets his teams play in the final minutes with little plan.
Did you see the possession where the Trojans didn't know what to do and it forced Onyeka Okongwu to simply drive to the basket with 7 seconds left on the shot clock? He charged.
Did you like the last shot strategy? Jonah Mathews just brings the ball down the court and then launches a step-back three-pointer?
Meanwhile, UCLA was actually running some plays at the end. Luckily, Jake Kyman fell down with 30 seconds left.
USC shot 41 percent on field goals, 3-point field goals and free throws. Free throws??
USC gets a bye now for the Pac-12 Tournament and is safely in the NCAA Tournament.
Now, some observations:
Why doesn't USC get Okongwu the ball more often?
USC president Carol Folt was there with what looked like a personal assistant in a USC shirt and shoes. But a USC employee told me it was her dept. of public safety "undercover" security guard. Just in case someone gets rowdy at the Galen Center?
She was with friendly boosters most of the time I saw her Saturday.
Folt was watching by the tunnel late in the game and looked as stressed as everyone else as USC finally let UCLA take the lead before Mathews' heroics.
Mike Bohn was there in his omnipresent red jacket.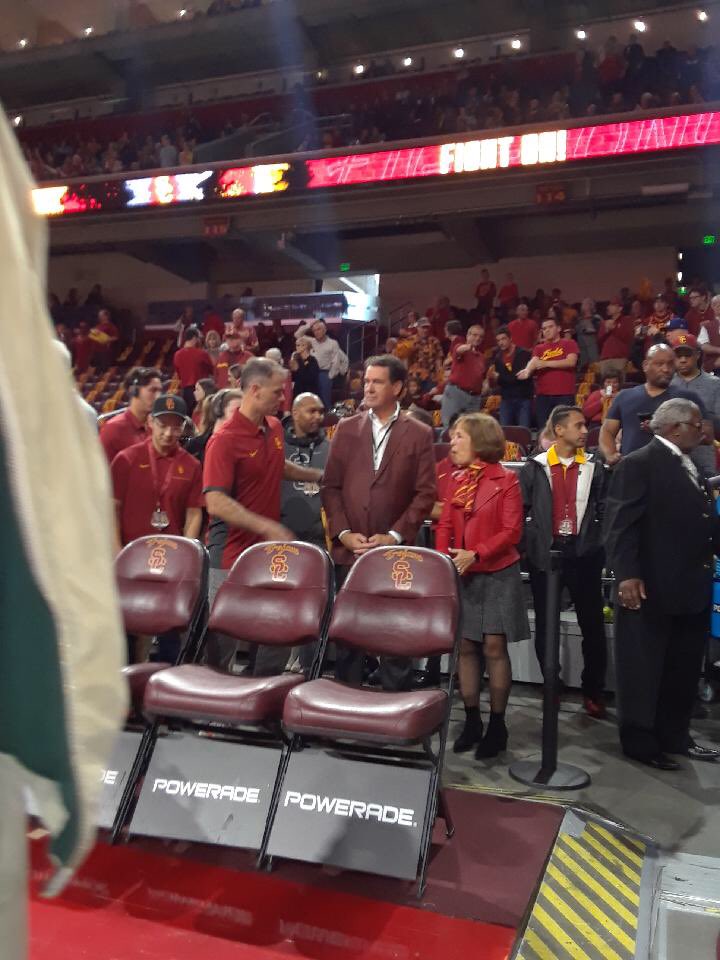 The game might have been a sellout but there were large blocks of empty seats in the upper deck, some of which might have been for students.
I was sitting on the floor next to the USC bench (in the white shirt). Just a few seats down were former USC player Desmon Farmer and LaMelo Ball, who played at Chino Hills with Okongwu. After a thunderous dunk by Okongwu, he gave five to Ball behind the basket.
Also courtside were Adoree' Jackson, Rasheem Green, Jordan Simmons, Frostee Rucker and Brandon Granville.
During the second half, there was the sight of Clay Helton and his assistant coaches coming out to throw T-shirts to the crowd. I think there was some boos for Helton but they got drowned out by the loud music.
Among the current football players at the game were quarterbacks Kedon Slovis and JT Daniels.