USC needs help at linebacker and a major transfer-portal target has been Tennessee linebacker Henry To'o To'o, who is from Northern California.
But a college coach I spoke to on Thursday said To'o To'o is expected to transfer to Alabama . . . as a walk-on!
Talk about a power move. To'o To'o was Tennessee's leading tackler last season and he is willing to walk-on at Alabama. I'm sure there is skepticism within the SEC that To'o To'o will actually have to walk-on. But the fact he might sounds like something that might have happened at USC 15 years ago when it was atop the college football world.
Why hasn't former USC linebacker Palaie Gaoteote picked a new school yet? One option (LSU) no longer exists because the Tigers are taking ex-Clemson linebacker Mike Jones.
Several USC assistant coaches are on a media blitz this week to spin the recruiting class. So far, the interviews have been with friendly recruiting-centric sites, which USC Sports Information prefers.
Did you know the 2020 Lott Trophy has still not been awarded? Apparently, it will finally happen Feb. 21 in Newport Beach. USC safety Talanoa Hufanga is one of six finalists.
Last Saturday's USC-UCLA basketball game on ESPN drew a .36 rating and 570,000 viewers. A year ago, a Gonzaga-St. Mary's game in the same window drew a .33 and 558,000 viewers.
The Tennessee-Kentucky game that preceded USC-UCLA averaged a 0.9 and 1.57 million viewers. SEC, baby.
I can't say I'm used to seeing USC men's water polo and women's volleyball with a combined record of 3-8. Paging Coach Bohn!
And now for some history:
Last week, I wrote about former USC player Leon Clarke, who played in the 1950's and was accused of getting into an altercation with a female student at the groundbreaking of Heritage Hall in 1969.
I heard this week when Clarke was a USC student, he once broke open the door of a sorority by head-butting it.
So I guess it's no surprise there was an altercation about 15 years later.
Here is former USC football player Mike Henry, who died last month, with Farrah Fawcett.
Here's an ad to watch the 1971 USC-Oklahoma game on closed-circuit TV at the Sports Arena. Sounds like fun. Oklahoma won, 33-20. USC also played Alabama, Illinois, Rice and Notre Dame that season. Clay Helton would never agree to that schedule.
Two weeks after the USC-Oklahoma game, here's the concert of the month. Tickets were $4.50, $5.50 and $6.50 to see Pink Floyd.
Below is a great photo of a March, 1952 spring practice that showed the depth of USC's backfield. From left, Al "Hoagy" Carmichael, Jim Sears and Addison Hawthorne under the watch of Frank Gifford (far right), who two months earlier was the 11th pick in the NFL Draft by the New York Giants.
Sears was an All-American in 1952, following the footsteps of Gifford, who earned the honor in 1951. Carmichael scored the only TD in the 1953 Rose Bowl, a 7-0 victory over Wisconsin. He also scored the first TD in American Football League history.
Hawthorne was the first African-American player at USC since Brice Taylor in 1925.
It was a big deal to be named "Helen of Troy" in 1969. Here are the 13 finalists.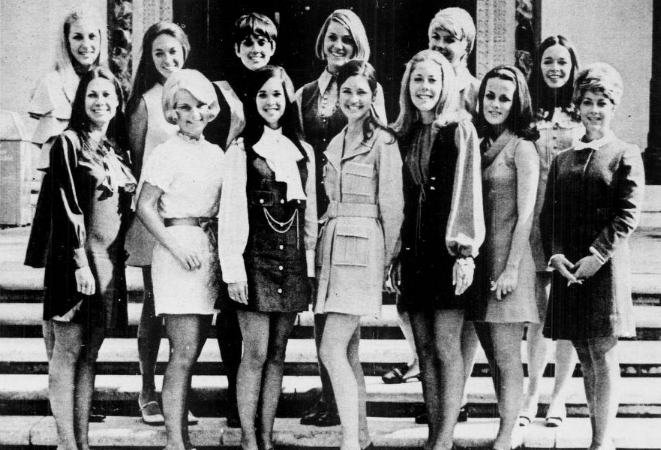 Has USC ever not had an attendance problem with basketball?
In 1954-1955, the average attendance was 1,642. The previous year, when USC won its conference, it averaged 3,173 per game.
But those figures were attributed to the fact USC games were played at unsuitable venues like the Shrine Auditorium, Olympic Auditorium and Pan-Pacific Auditorium.
Here's what an alumni publication wrote in 1956:
"Within the next year — perhaps in time for the 1956-1957 basketball season — the new 17,000-seat Coliseum arena will be completed. Both public and student interest in basketball should soar, particularly with the arena being situated right next door to the Trojan campus. Let us hope so."
The Sports Arena was completed in 1959. Once it became unfashionable, the theory was attendance problems would be solved once USC built an on-campus arena (the Galen Center). See how history repeats itself!
Personally, I think all problems would have been solved if USC built the Howard Jones Fieldhouse in 1947, where the Cinema School is located. Unfortunately, USC raised only $38,000 and it needed $1 million.