This week, I spoke to someone close to the USC recruiting staff.
"They think they are killing it in recruiting," the source said.
So imagine his shock to see USC took a three-star offensive lineman that was projected to go to Oregon State?
"It's unbelievable," he said.
Former USC quarterback JT Daniels has signed a deal with marketing agency ESM.
USC swimmers Marlene Kahler (Austria) and Victor Johansson (Sweden) will compete in the Tokyo Olympics.
Women's basketball coach Lindsay Gottlieb has hired Nneka Enemkpali as her final assistant coach. Enemkpali was an assistant at UNLV and UC Santa Barbara.
And now for some history:
USC defensive backfield coach Charlie Hall used to keep a letter tacked to the wall in his office in 1963.
It was addressed to John McKay and dated Jan. 2, 1963, the day, of course, after the No. 1-ranked Trojans' 42-37 Rose Bowl victory over No. 2-ranked Wisconsin. The message is short and direct: "Dear John: For the benefit of the 'SC fans who suffered slight coronaries yesterday, myself included, please fire your defensive backfield coach immediately!!!!! (Signed) A Loyal Trojan."
With 14:54 left in the game, the Trojans scored to go up 42–14. But Ron Vander Kelen led a furious comeback as Wisconson scored 23 unanswered points. Some USC players are still angry about the tight score and perception the Trojans nearly blew it.
When he entered the locker room, a USC official who had not seen the end of the game asked McKay what happened? McKay shoved the official and said, "Get out of my way."
When the team entered the locker room, McKay was livid.
"He chewed us out for 45 minutes," said wide receiver Hal Bedsole, who was the game MVP. "You would have thought we lost the game."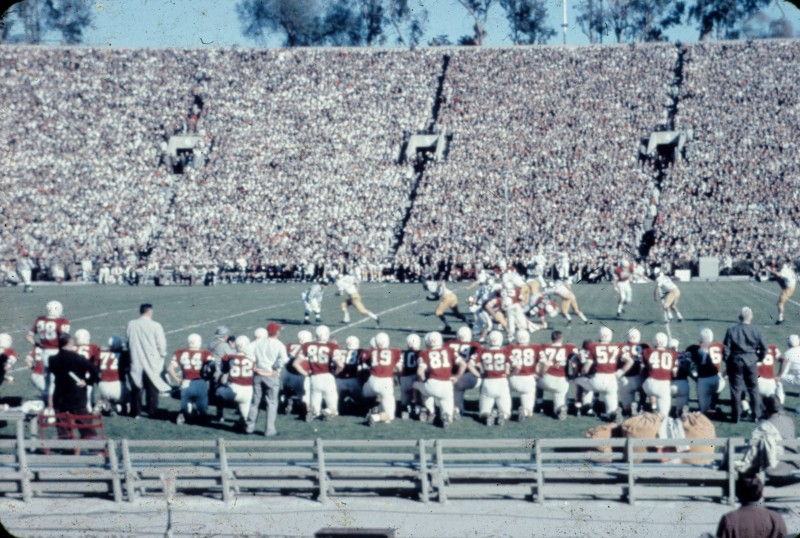 When USC played at Ohio State in 1964, scalpers demanded $10 a ticket and got it as 82,000 packed The No. 2-ranked Buckeyes defeated the Trojans, 17-0, but tailback Mike Garrett gained some fans in Columbus.
Garrett gave his two game tickets to a local boy who wrote him and said he wanted to attend the contest. Garrett didn't know the boy but gave him the tickets.
Here's another example of how big/bitter the USC-Stanford rivalry was during the McKay-John Ralston era:
"This game means more to us than any game all season, including the Big Game (vs. Cal)," Ralston said before playing USC in 1966. At least Ralston cared. Can you imagine Clay Helton maing a comment like that today?
Stanford lost to USC, 21-7.
USC started the 1966 season with a 6-0 record, then lost 4 of its final 5 games.
In 1965, you could eat a New York steak dinner for as little as $2.50.
Students probably preferred Woody's Smogasburger 28th and Figueroa.
Finally, here is the concert of the week on campus in April, 1969.