Here's some notes and quotes as USC goes another week that led to some questionable image making for the program.
You would be shocked at the ridicule I heard this week from other college coaches/personnel that USC had to hire an interim equipment manager for the season because it could not successfully find a permanent candidate.
"It's not a job the public cares about but it's important to the program," a Big 12 coach told me. "It's negligent they couldn't find someone to do it. It impacts the players. I view it as one more thing Clay Helton can't do properly."
USC is obviously one of the biggest programs in the country but also assumes a Mickey Mouse mentality at times.
I hear Arizona State is not currently worried Coach Herm Edwards is in danger from the current NCAA investigation.
If you want to relive some Sam Darnold games, today is the day on the Pac-12 Network. You can watch USC play Western Michigan at 6 a.m. and 7 p.m. PT; Texas-USC at 7 a.m./9 p.m.; USC-Washington State at 10 a.m./11 p.m. and the 2017 Pac-12 championship game at 6 p.m.
Of the games above, I remember how the Western Michigan game was a real tipoff that USC was more vulnerable than imagined.
Jeff Kearin, a grad assistant at USC from 1991-94, is the new football coach at Taft High School in Woodland Hills.
And now for some history:
Here is a photo I've never seen before of Rod Dedeaux and Joe DiMaggio at USC. This is not the legendary 1951 game at Bovard Field between USC and the New York Yankees where Mickey Mantle hit the alleged 615-foot home run. It looks more like the early 1940's. The USC uniforms are similar to what was worn in the late 1930's.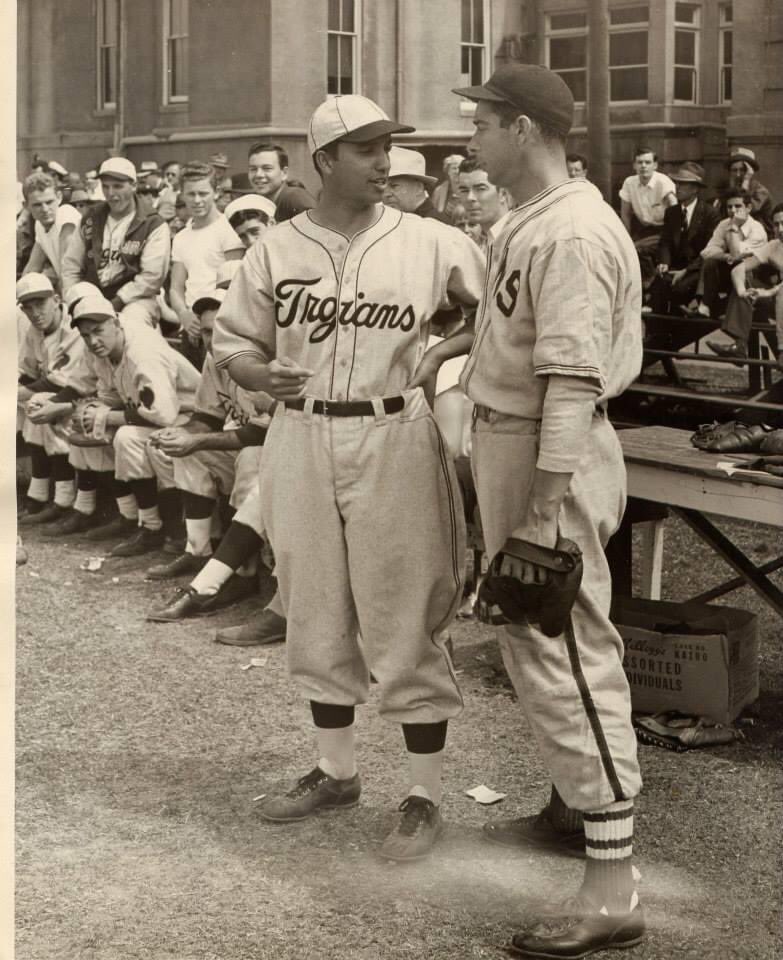 I have to love this headline above. Alas, it refers to swimmer/water polo player Paul Wolf in 1938
Let's appreciate Wrigley Field, which was only 2 miles from USC. Today it is gone and the site of the Gilbert Lindsay Recreation Center at 429 E. 42nd Place.
It was best known as the home of the Los Angeles Angels. But Pepperdine played its football games there in 1948 and Manchester United played Hearts in a soccer game in 1960.
It was also the site of Pro Bowl practices and photo shoots.
Here's some NFL royalty with Colts legends Johnny Unitas and Lenny Moore, former USC and Rams star Jon Arnett (26) and 49ers running back J.D. Smith in Los Angeles for the 1960 Pro Bowl. 
Wrigley Field was demolished in 1969.
Former USC safety C.J. Pollard, is an assistant football coach at Serra High School, his alma mater. Also an assistant is his father, former USC safety Marvin Pollard.
Marvin Pollard was involved in an infamous onside kick in the 1991 USC-Notre Dame game. The Trojans scored to cut the Irish's lead to 24-20 with 1:50 remaining.
USC then tried an onside kick. The ball hit a Notre Dame player then the ground and Pollard fell on it. A game official signaled USC recovered. But then another official came over and ruled Notre Dame's Irv Smith recovered the ball. USC coach Larry Smith came on the field to protest and the Trojans received an unsportsmanlike conduct penalty.
USC was already angry because Notre Dame scored a TD even though Tony Brooks fumbled before crossing the goal line.
"You hear all this talk about the luck of the Irish," Pollard said. "It makes you wonder."
And here is our restaurant of the week: Bishop's Cafe in 1938, which was near the Shrine Auditorium.
And here is restaurant No. 2. McDonnell's (not McDonald's) in 1941, which was on Figueroa St. and what is now Martin Luther King Blvd.