The good news is USC athletic director Mike Bohn wanted to speak to the media on Thursday.
The bad news is that he and top assistant Brandon Sosna immediately went into default mode during the press conference by constantly bringing up all the support staff they hired the past two years.
The fans have heard this repeatedly from Bohn for nearly 2 years and it's not even close to being news anymore. It's recycled pablum.
And then came more pablum: "Our expectations are what they've always been. We want to be in the Rose Bowl and being a part of that College Football Playoff."
The real kicker though was when Bohn disputed this could be a make-or-break season for Clay Helton: "I don't think that's accurate," he said.
Maybe Bohn has no choice but to say that. But he needs to read the room and realize how angry the fan base is when he answers a question like that. It comes across as being tone deaf and bolsters the idea that Helton will be around no matter what in 2022.
That's fine if you don't care if you sell tickets to games or get boosters to donate to USC. You have to treat fans with respect. You can watch the full interview here.
How did USC players elect a punter (Ben Griffiths) team captain over quarterback Kedon Slovis, who was a captain last season? Did some players lose faith in Slovis after last season?
Slovis was also behind Drake London and Vavae Malepeai in the offensive players voting this year because the duo were elected captains.
You can justify why Slovis isn't a captain and it doesn't really matter if he is one. But it shows he has some image rebuilding to do this season.
A USC administrator had this to say about so many ex-Cincinnati employees working in the athletic dept.
"Why is it these people come to USC and don't want anything to do with people who know the heritage and tradition of USC?"
I like running pictures from the 2017 USC-Notre Dame game above because Clay Helton hated this pullover so much, he told his staff he would never wear it again. It doesn't strike me as worse than some of the other garish tops he dons. And this shirt is awful:
This week's installment of Washington State generating bad publicity. It's never a great week when your football coach is the subject of a cartoon.
And now for some history:
USC had pretty good hockey teams in the 1930's with players from Canada, Massachusetts and Minnesota. The games were held at the Polar Palace in Hollywood, which seated 3,500.
USC filled up the Polar Palace on March 24, 1938 when the Trojans hosted defending Big Ten champions, Minnesota.
USC took a 2-0 lead in the first period and defeated the Golden Gophers, 5-2, as Nat Harty scored two goals for the Trojans. Minnesota sophomore John Mariucci was held scoreless for the first time in his college career.
Today we take a look at 1958.
Here is a different view of Bovard Field as Ron Fairly takes a swing during a USC baseball game.
Let's stay in 1958 and go to that season's football banquet. In the front row is Lou Byrd and Hillard Hill. In the top row are Monte Clark and Larry Gilhooly.
Some of you might remember Clark more for his time as the head coach of the San Francisco 49ers and Detroit Lions.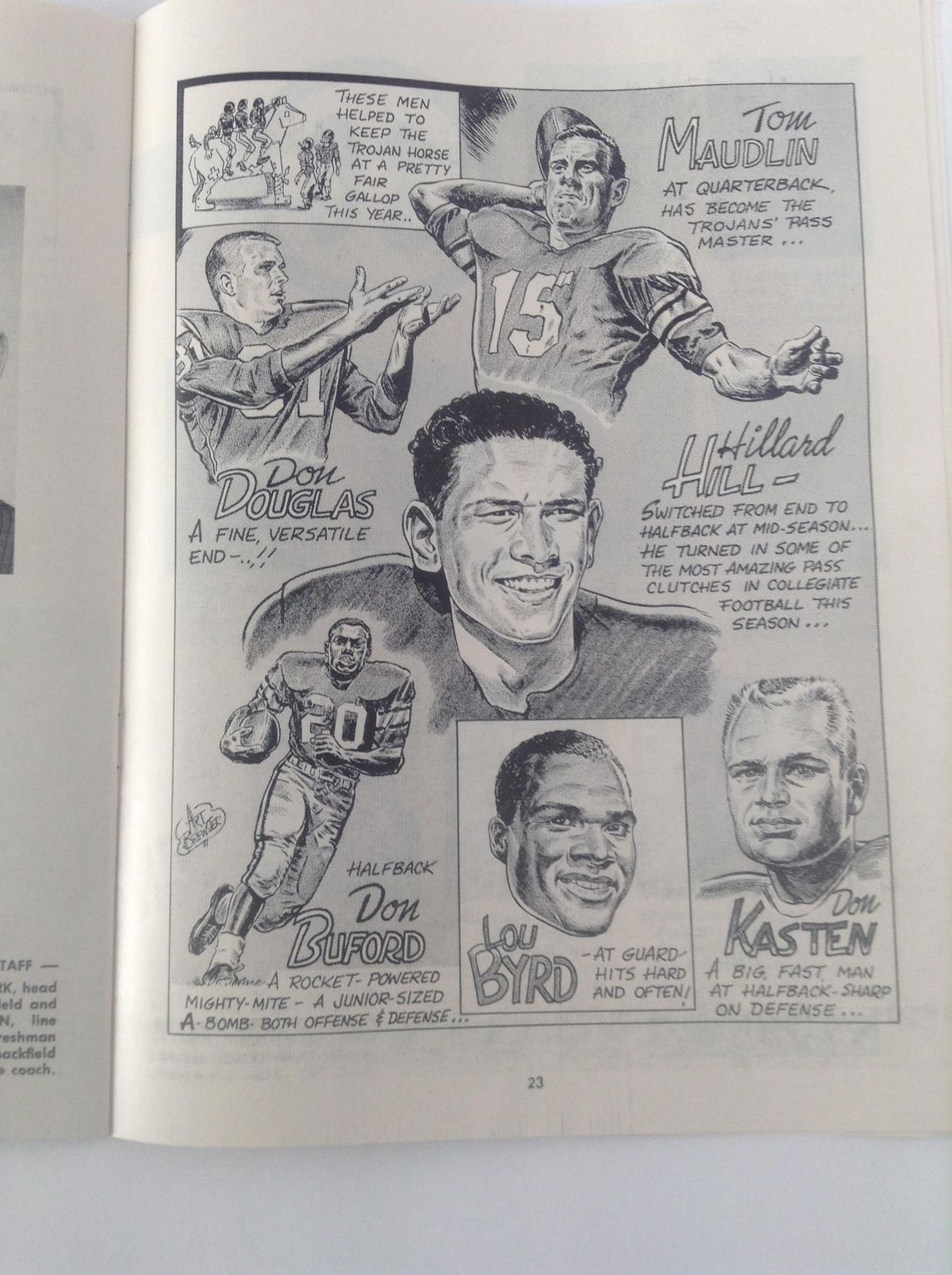 Here are some of the stars of the 1958 team featured in the USC-Notre Dame game program, when illustrations told the story from the legendary Art Brewster.
Here are the starting lineups for the game, complete wtith Chesterfield ad.