Usually, USC can be a bubble that creates a different view of things from the average fans.
But right now there is a common topic buzzing through the McKay Center and general public: Caleb Williams.
Within the program, there is a feeling USC is a heavy favorite to land Williams, which would immediately vault the program into the national conversation (fairly or unfairly).
"From the beginning we have heard he is coming," one USC staffer said. "We will see."
What happens to Jaxson Dart if Williams comes to USC? He can't possibly stay for two years and warm the bench, can he?
One rumor I've heard is that for Williams to officially commit, there's going to have to be demonstration that the offensive line can protect him adequately
Now for some notes:
Frankly, at this point, it should be a surprise if a Mater Dei player doesn't commit to USC.
Isn't it about time USC announce some of its football coaching staff hires? I'd attribute the delay to the apparent retirement of long-time sports information director Tim Tessalone but I doubt he'd have released any names by this point either.
There are currently 16 USC players in the transfer portal. Arizona and Colorado also have 16 players in the portal.
The big question with the hiring of Lincoln Riley is whether Graham Harrell's scholarship offer to 7th-grade quarterback Reagan Toki is still valid?
Former USC offensive coordinator Mike Riley, one of the nicest guys in coaching, is the head coach of the New York Generals of the USFL.
USC safety Jaylin Smith is the boyfriend of Olympic gold medalist gymnast Suni Lee, who said there has been a backlash since the couple went public.
Washington defensive tackle Sam Taimani transferred to Oregon. That means the Ducks have three of the top five graded interior defensive tackles in the Pac-12 (Taimani, Popo Aumavae, Brandon Dorlus).
Former USC shortstop and assistant coach Gabe Alvarez is the new manager of the Detroit Tigers' Class AA affiliate in Erie.
USC women's volleyball has added Texas outside hitter Skylar Fields, who was a third-team All-American last season for the Longhorns. USC setter Elle Glock is transferring to Louisville.
Dennis Slutak, who was USC's director of football operations under Pete Carroll, is the new chief of staff/director of football operations at SMU.
FREEZING COLD TAKES
If USC can develop this kind of receiver in a bad offense, imagine what SC can do in the future with Lincoln Riley running the show✌️ https://t.co/DpnTOAS6Q4

— Reign of Troy (@ReignofTroy) January 4, 2022
https://platform.twitter.com/widgets.js
Develop? Did someone say USC developed Drake London? He was a unique figure at Moorpark High School because of his ability to dominate in football and basketball. If anything, USC took too long to allow London to show his talent. Develop?!?!?
Greg Robinson, the former Syracuse coach and UCLA assistant, died on Wednesday at age 70. Robinson and Pete Carroll were closely tied together for much of their lives.
They were teammates at Pacific in the early 1970's, then assistants at UOP as Robinson coached the defensive line and Carroll the secondary.
In 1994, when Carroll was hired as the New York Jets coach, he made Robinson his defensive coordinator.
And now for some history:
I want to remember USC center fielder Jay Jaffe, who died earlier this week at age 70.
In 1968, USC played Cal State Los Angeles in the District 8 playoffs. The winner would go to Omaha for the College World Series.
With two outs in the bottom of the ninth inning, Cal State L.A. led by a run. Jaffe came to bat with a runner on second base. Jaffe hit a hard grounder into the hole between first and second base. It looked like a hit but the ball took a high bounce and was fielded by the second baseman, who double-clutched and fired a bullet to first.
The ball popped up off the first baseman's glove and Jaffe touched the base before the ball landed back into the glove.
USC pinch-runner Buzz Shafer kept running and headed for home. Cal State L.A. first baseman Jerry Feldman was so rattled his throw went over the catcher's head. USC tied the game and won in extra innings.
The Trojans then won the College World Series by going undefeated, beating BYU, Oklahoma State, St. John's, North Carolina State and Southern Illinois in the title game. USC trailed in every game but a 2-0 victory over N.C. State.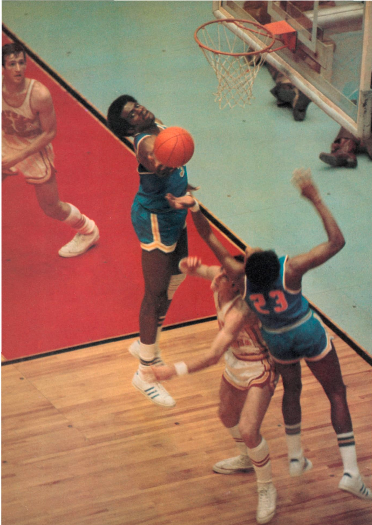 It's not easy finding color pictures of Paul Westphal but here is one from 1971. The UCLA players are Sidney Wicks (with ball) and Kenny Booker. The other USC player appears to be Dana Pagett. Or maybe Chris Schrobilgen.
Booker is still a fixture in the Long Beach area where he refs high school basketball games.
Sometimes, things just pop into my head, like this. Does it bring back any memories?