George Kliavkoff is now the face of the Pac-12.
But for the universities that make up the conference, a big development will be who Kliavkoff hires directly under him to work with the administrators at each school.
That person will deal with athletic directors while Kliavkoff focuses on the big picture, supposedly. It will be a significant hire and the person should have a lot more experience in college athletics than Kliavkoff.
The presidents hired Kliavkoff but the athletic directors will be dealing with the No. 2.
USC starts holding its first graduation ceremonies today since 2019. There will be 14 in-person commencement ceremonies for the classes of 2020 and 2021. Each ceremony will be staffed by 350 people.
For the first time since 1950, graduation ceremonies will be held at the Coliseum. It's probably the biggest moment for Carol Folt as president as she presides over the festivities for thousands of students.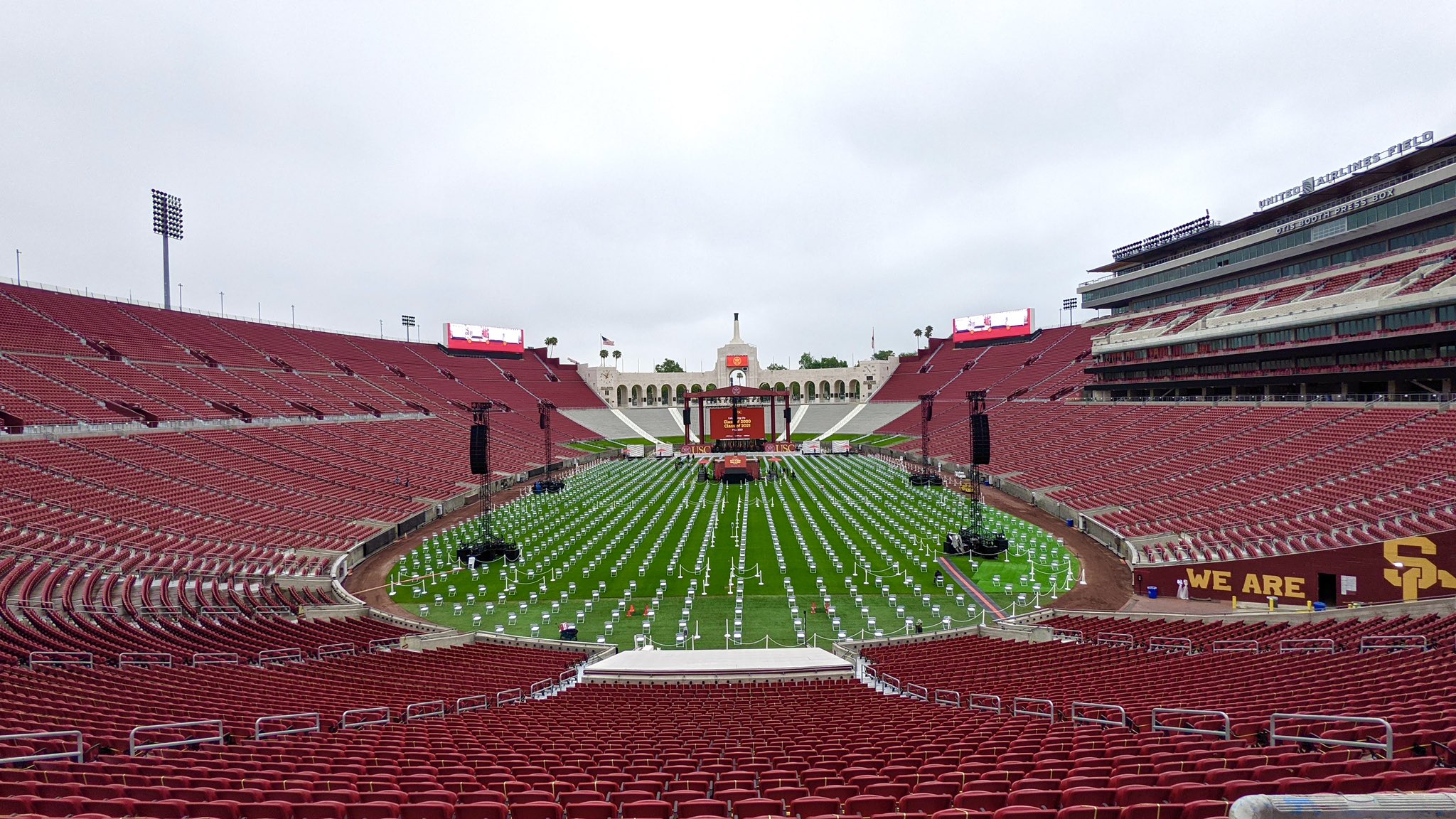 Former USC star offensive lineman Pat Harlow has resigned as football coach at JSerra in San Juan Capistrano. JSerra went 0-5 in the brutal Trinity League and Harlow had to deal with players transferring out after the 2019 season, including QB General Booty, the nephew of former USC QB John David Booty.
Did you know that in 2019-20, Learfield IMG lost $1.7 million on its multimedia rights deal with UCLA? In 2018-19, Learfield lost $933,000 with UCLA. By contrast, in 2019-20, Learfield made $7.4 million with Georgia. It's all part of an interesting story in Sportico. Since USC is a private school, its media rights deals are not public.
I wonder if new women's basketball coach Lindsay Gottlieb has shared any stories with Andy Enfield yet about Kevin Porter Jr.? From what I hear they both have good stories.
Can you read the last page of Gottlieb's contract?
The hiring of Gottlieb has gotten Mike Bohn a lot of praise this week. At the same time, his hiring of John Brannen as men's basketball coach at Cincinnati in 2019 was a disaster. Last week it emerged that one reason Cincinnati fired Brannen in April was for "jeopardizing or disregarding the well-being, health and safety of his players."
USC QB Jaxson Dart is one of three candidates for Gatorade national football player of the year. Los Alamitos QB Malachi Nelson, the California state player of the year, is also a finalist. The third finalist is Brock Vandagriff of Prince Avenue (Georgia).
Pitcher Brynner Waiolama of North Torrance High School committed to USC this week.
And now for some history:
John McKay did a lot of things. He won four national championships and had eight Rose Bowl appearances: But one that rarely gets discussed is a 23-game unbeaten streak. John Robinson topped it with a 28-game unbeaten streak that ended on Nov. 15, 1980 with a 20-10 loss to Washington at the Coliseum.
But what about the victories?
There was the 27-25 victory over Notre Dame in 1978 at the Coliseum. The 17-10 victory over Michigan in the 1979 Rose Bowl. A 17-16 victory over Ohio State in the 1980 Rose Bowl. A 20-17 victory over Tennessee in Knoxville in 1980. And there was a 23-21 victory over Arizona State at the Coliseum, which featured the halfitme performance by Fleetwood Mac.
If you want a bygone era, in 1980, USC had three fullbacks (Bob McClanahan, Paul DiLulo, Doug MacKenzie) blocking for tailbacks Marcus Allen and Michael Harper.
"Fullback is one of the keys to our season," Robinson said.
When McKay won his first national title in 1962, they used to have the final poll before the Rose Bowl. So McKay went to a football writers' dinner at a Los Angeles hotel that December where he was given a large trophy to signify winning the championship.
At the end of the dinner, he tossed it to an aide dismissively, unimpressed with the award, and walked out of the hotel. It was another example of how he could be hot/cold with people depending on his mood.
Does anyone remember Stubby Shaw?
He opened the Trojan Barrel bar in 1955 that eventually turned into Julie's Trojan Barrel in 1975, which was not to be confused with Julie's Restaurant on Flower St., which was opened in 1941. Those were owned by the legendary Julie Kohl.
But back to Shaw. He was a fixture to students in the 1950's and would sponsor intramural basketball teams that featured actual players like Jim Kaufman and Danny Rogers.
If Shaw was well known, so was his mother. Known to dental students as "Mrs. Shaw," she was fixture at the dental school from 1931-62.
Mrs. Shaw (born Maude Frances Mashburn) worked with more than 3,000 dental students, the "little white haired lady who signs (the) state board examination card indicating the culmination of formal dental training."
Some would say this was a time period back when USC was known for having family atmosphere.