WINNERS
The USC elite
Max Nikias, Carol Folt, Clay Helton, Andy Enfield, Coach Bohn. Millions of dollars are flowing to them on a yearly basis. And the daily question remains: Is USC getting its money's worth? The two-highest paid (Helton, Enfield) did not earn the more than $8 million they made last year.
Daniel Cukierman
The USC tennis player was named Pac-12 singles player of the year. He was also named Pac-12 doubles player of the year with Riley Smith.
Ashleigh Plumptre
The former USC soccer player was named Leiceister City's players' player of the year.
Robert Kroener
The 78-year-old finally walked in a graduation ceremony 50 years after earning his master's degree from USC. The former Air Force lieutenant colonel was called back to active duty in 1971 before getting a chance to attend his graduation.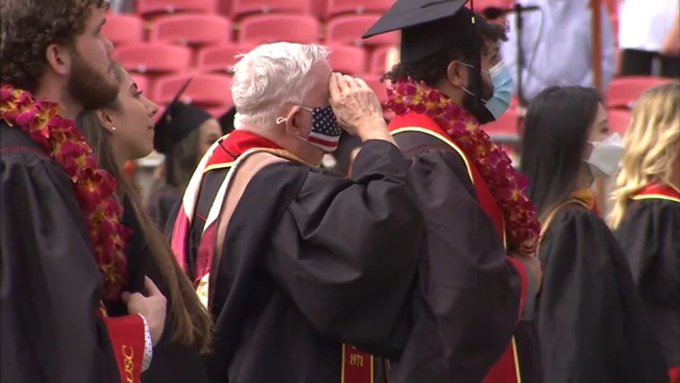 LOSERS
Andy Enfield
If you want to know why, read today's USC newsletter.
USC men's tennis
Knocked out of the NCAA quarterfinals in a tough 4-3 loss to Texas. Looks like USC misses former coach Peter Smith, who Lynn Swann replaced after he won five NCAA titles.
USC baseball
I really don't like mentioning them this much, given their scholarship limitations. But an RPI of No. 102 nationally is not cutting it.
USC investigations
How long is it going to take to complete the investigation into swim coach Jeremy Kipp?
And just for a diversion, I'm including this catch:
CATCH OF THE YEAR!!! Watch Bear River Center Fielder Olivia Taylor going airborne, clearing the fence to make this catch in the @UHSAAinfo State Championship game. @KSLSports l @BRHSinfo l @BearRiverCoach pic.twitter.com/9aw1f1Fhu5

— Sam Farnsworth (@Samsworth_KSL) May 22, 2021
https://platform.twitter.com/widgets.js